May 11th, 2013 marked the final appearance of the American Le Mans Series at Mazda Raceway Laguna Seca.  Starting in 2014, ALMS will merge with Grand-Am Road Racing and compete side by side in the newly formed United SportsCar Racing series.
Once again,
BMW
CCA hosted the corral at turn 5 led by none other than Sacramento Valley Chapter's Pat DeWitt.  On race day Saturday, to my surprise, I arrived BEFORE Pat to an empty corral.  Trackside photographers were required to attend a MANDATORY safety meeting at 7:30am!  I parked my 2013 X1 in the corral, snapped some quick pics, grabbed coffee, and started my half mile hike to the media center for the meeting. When I returned at around 9am after another half mile hike back, the corral started filling up with BMWs. The support races haven't even started yet, but I was already tired and ready for my first beer.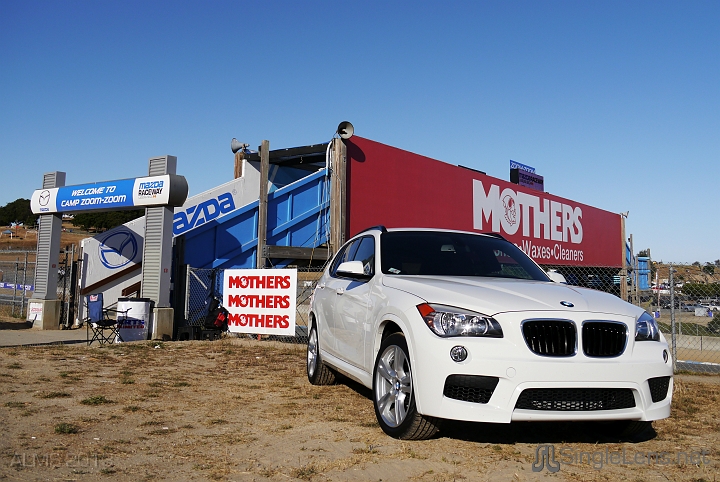 For race fans that never participated in a club corral before, there are many benefits.  First of all, you are parked in a secure area next to like minded individuals who regard vehicles as more than just a form of transportation.  That means the chances of getting a door ding or dented
M-sport
bumper is much reduced. Second, with a good reception-sized tent, you are protected from the sun and dusty wind but can still hear all the sounds and smell the boiling brake fluid coming from the race cars. A closed circuit TV inside the tent provides coverage of the action from other areas of the track.  Your vehicle is always within reach for tailgating while trackside golf cart taxis make rounds shuttling people to the paddock or the corkscrew.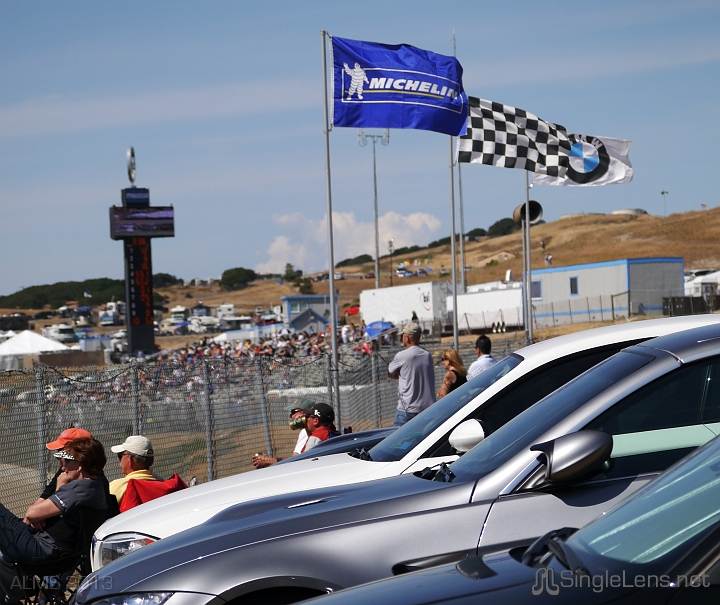 There were many corrals that weekend (Corvette, Viper, Porsche, just to name a few), but BMW had the best view of the track.  It was situated above the turn 5 deceleration zone, so to the right you can see cars accelerate out of turn 4, and to the left you can witness fireballs from exhausts as a result of downshifting before hitting turn 5.  While turn 4 throws a lot of dust and rock into the grandstands, turn 5 sees more crash action but fans don't get pelted by debris.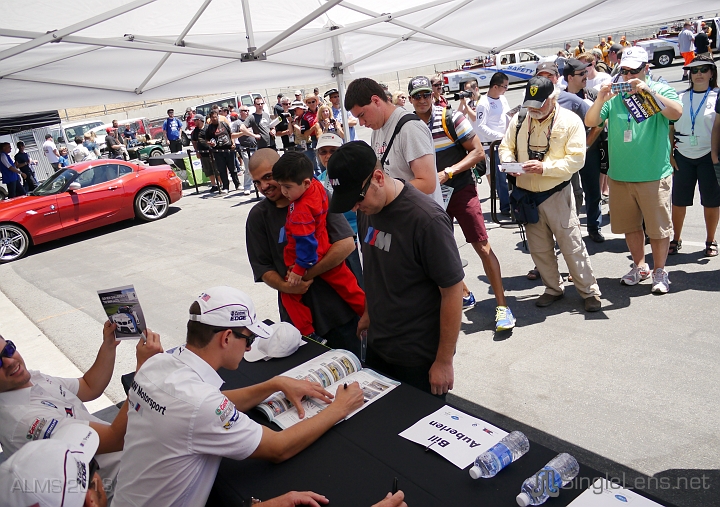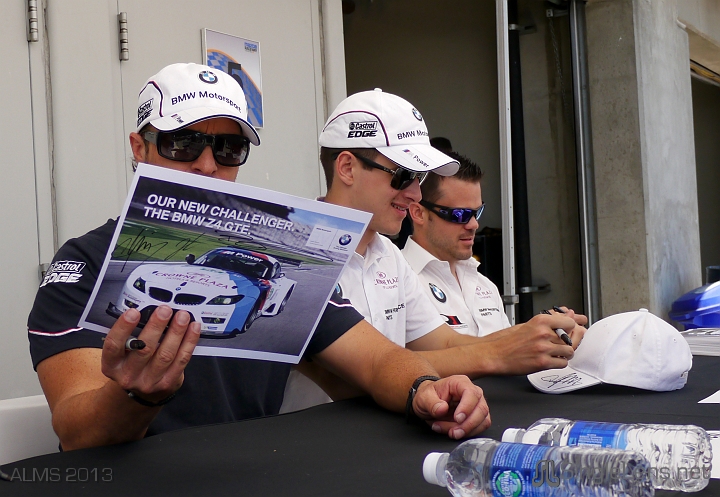 Traveling with the club to the paddock area allows for an inside look of the new Z4 GTE. It is smaller in size compared to last season's M3 GT. As opposed to the more exotic flat plane V8 of the M3 GT, the Z4 GTE uses a conventional cross plane 4.4 liter V8 that makes around 475 hp. My speculation is that the cross plane V8 produces less vibration and probably more cost effective for the team. The new V8 sounds closer to that of a NASCAR but not as loud as the Corvette C6.R.
Team BMW RLL fielded two Z4 GTEs -- Dirk Müller and John Edwards piloted the number 56 car liveried in classic Alpine White; Bill Auberlen and Maxime Martin piloted the Frozen Black number 55. The black car looks more intimidating especially with the yellow projector lights signaling that it is in GT class. Car 56 started the race in 8th position and after the first hour on lap 45 moved up to 3rd. Edwards held on to 3rd for his first ALMS podium finish after 4 hours. Unfortunately car 55 suffered a broken differential and retired at lap 85.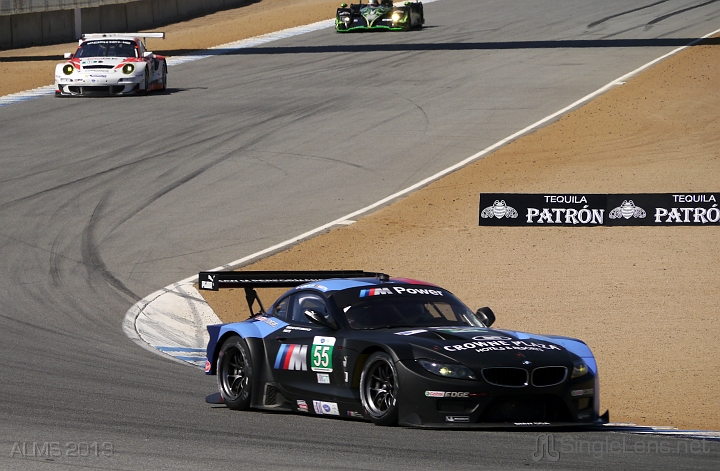 After the race, Gordon McDonnell, BMWNA Motorsport Manager said: "John and Dirk did a great job today. Only 3 races into our new Z4 GTE program BMW Team RLL has raced Dirk to the top of the driver points and BMW to 2nd in manufacturer points."
Bobby Rahal
reflected: "Certainly today was a bitter sweet one. I'm sorry to see Bill and Maxime have to retire after fighting back from a lap down. Dirk is on top now and John had a very strong race. It is very hard to combat an obvious speed differential to many of our competitors, but we will keep fighting every day."
Images from the 2013 American Le Mans Monterey presented by Patron:
http://SingleLens.net/monterey/2013/alms/